What is Stash?
Stash allows you to organize and view your own collection of adult video and image files. Think of it like a private PornHub site for your personal porn collection.
Scenes
Every video file has its own scene. Scenes can be rated and tagged with performers, tags, movies and a studio.
Markers
Bookmark your favorite parts of a scene with markers. Markers can be tagged and appear in the video scrubber when viewing a scene.
Galleries
Zipped image collections can be viewed as galleries.
Curate your content
Rate your scenes, and tag them with performers, tags, movies and studios. Filter and sort your content with a variety of filter and sorting options.
Stash also allows you to derive scene metadata from video filenames. Alternatively, you can scrape scene metadata from websites using community-curated scrapers.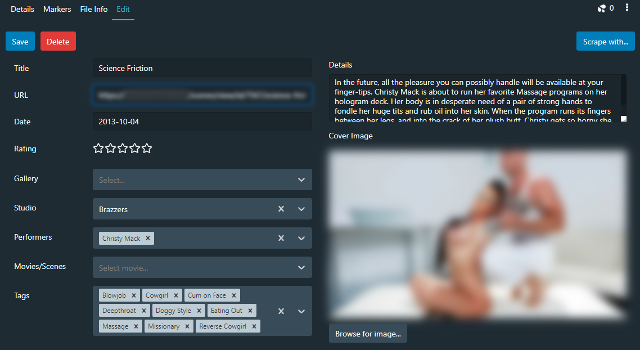 Stash is private
Stash operates on your own network. Your collection is not shared anywhere.
You can even password protect it.
Stash is free
Stash is developed by volunteers and is licensed under the GNU AGPL. This means that it is, and always will be, free.
Upcoming features
View the changelog for the development build here.